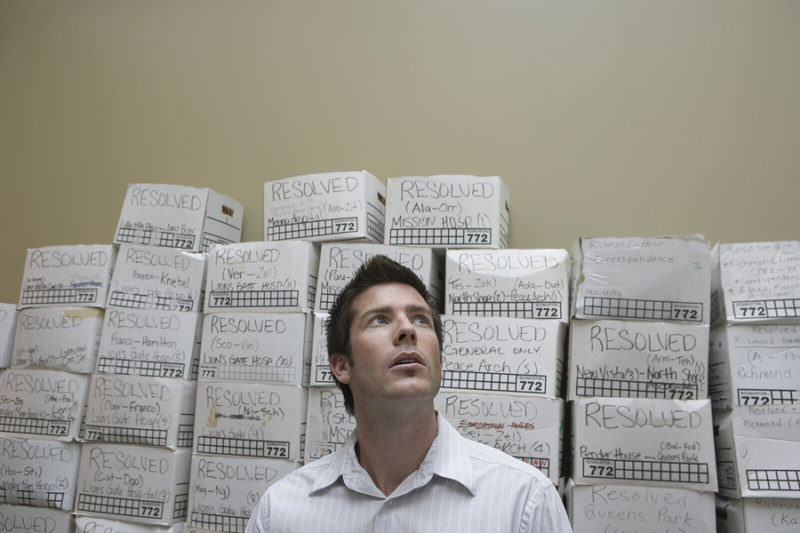 When You Have a Pile of Files to Purge
Do you have an office, storage unit, basement or garage in Oklahoma City or Tulsa area full of documents that need to be securely and safely shredded? Maybe you have just a few boxes but you know the risks and what should be done to protect yourself?
No matter how big your pile to be shredded is, we are here to protect your information in accordance with our NAID AAA Certified shredding practices.
With a fleet of many trucks along with our plant in Norman, we make it easy and have several options to match your budget and timing requirements. There is no need to remove staples, paper clips, binder clips or rubber bands. We do ask that documents be removed from three-ring binders and accounting folders.

Demand a Certificate of Destruction When You Shred
Upon completion of your shredding job, an Absolute Data Shredding (ADS) on-site document shredding technician will present you with a Certificate of Destruction. This legal document should be kept on file so that if the need ever arises, you can present it to an auditor to show you are in compliance with federal and state information protection laws.
This level of protection is not possible if you are using personal shredding machines or going to shred events where you dump your documents in a bin and drive away.
Testimonials
"Again, I was very pleased with your service from the first call all the way through the billing question I had.  Thank you!"
-Susan Walcher
"We feel safer knowing that ADS uses the most modern equipment.  We also like the wide variety of services offered by ADS."
-Jim Irwin
"We investigated all possibilities in meeting HIPAA standards & felt ADS' methods were the best.  The company has lived up to all our expectations."
- Susan Gregg