Be 100% Sure: Destroy Instead of Degaussing or Erasing
Do you store private, confidential or proprietary information, such as customer data or designs, on computer hard drives and other digital storage devices like thumb drives and cell phones?
Do you donate your equipment or have it recycled after merely erasing the data?
The only way you can be sure to avoid a data breach is by having Absolute Data Shredding (ADS) destroy your media and then recycle the raw materials.
When I looked at the small cost per drive to destroy each one and I compared that to the horrific hard and soft cost of a data breach, especially notifying our clients, using Absolute was an "absolute no-brainer." Thanks, guys.
– IT Manager, OKC Financial Institution
Schedule Your Service & Get a Serialized Certificate of Destruction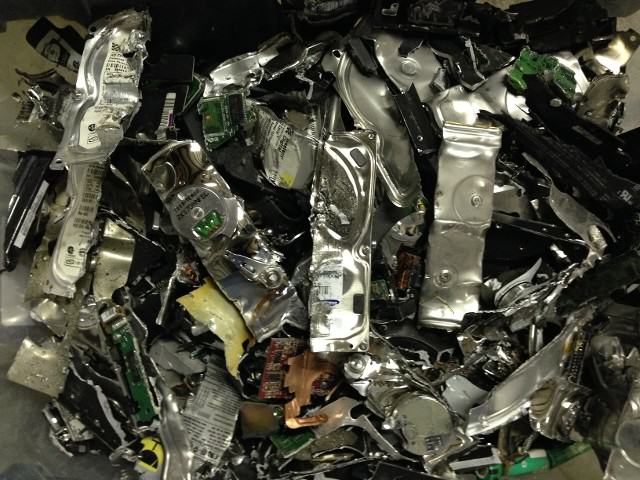 We'll destroy your hard drives and other devices in accordance with our NAID AAA Certified processes, which are surprise-audited regularly. Once the shredding occurs, you will get a Certificate of Destruction which contains the serial numbers of each drive or device destroyed.
Simply schedule a time for pickup, send them in, or drop them off at our secure location.
Want to Witness the Destruction?
At our secure facility, you must ring the bell to gain access, and a staff member will take your items. If you like, you can watch your documents and/or drives be destroyed by closed-circuit television from the comfort of our lobby.
Testimonials
"Again, I was very pleased with your service from the first call all the way through the billing question I had.  Thank you!"
-Susan Walcher
"We feel safer knowing that ADS uses the most modern equipment.  We also like the wide variety of services offered by ADS."
-Jim Irwin
"We investigated all possibilities in meeting HIPAA standards & felt ADS' methods were the best.  The company has lived up to all our expectations."
- Susan Gregg